Method, Precision, Clarity.
J. Dauman is a firm of chartered accountants and business advisors committed to making your business succeed, with expertise in UK, Europe and international business practices. J. Dauman approached us to improve their prospecting in HubSpot.

Challenge

As accountants, J. Dauman specialise in methodical precision and accuracy. As business advisors, they present clear solutions to their clients.

They approached us to build a customer journey for 4 different services that the company offers.

Could we build solutions as precise, methodical and clear for J. Dauman as they were used to delivering to their clients?




Solution

First, we worked with the client to migrate data from 3 different sources into HubSpot, so they can see in one place everything needed to manage the relationship with their customers.

It's always important that the client understands the processes involved in automating pipelines and sales in HubSpot, so that they are enabled to manage it all once we leave.

With our help, J. Dauman defined one solid deal pipeline and mapped the data, facilitating automated recurring client sales (monthly accountancy fee subscriptions). Then it was time to create a marketing email template, set up a marketing subscription and update the cookies policy so HubSpot can collect appropriate data. Finally, the moment was right to introduce the star of the show: sales Sequences to help convert leads to prospects.

Future plans include developing a product library and building custom workflow so J. Dauman can deliver seamless customer service and spot even more business opportunities for their portfolio of 3k customers.

Piotr Kubalka, the company founder said:

HubSpot was introduced to us by another firm, but AutomateNow has helped us to understand how we can use it to improve our sales. The team has delivered so far great insight and improved the way we speak with clients with clearly defined goals for each stage of our prospecting.
Results

The number of pipelines and deal stages in the pipeline has been reduced, to manage enquiries faster. A number of sales and marketing assets now developed that can be reused for other projects, including landing pages, sequences and email templates.

We continue to work with the client on an ongoing basis.
HubSpot Licence used: Sales Professional, Marketing Starter
Company size: 50+ employees
Location: HubSpot Sales Training and implementation delivered via Zoom for the team locate in London and Poland
Industry: Finance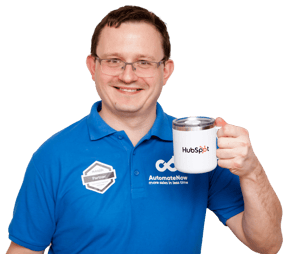 Bart Kowalczyk
I specialize in optimizing the buyer's journey, providing top-notch sales enablement training, spearheading new business development, orchestrating engaging events, and sharing insights through podcasts. My mission is to drive growth, enhance customer experiences, and empower sales teams to excel. Let's elevate your business together.