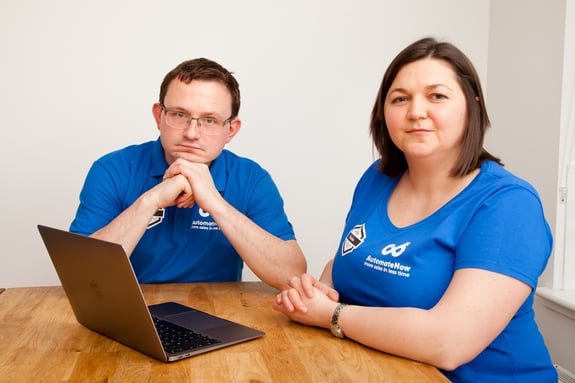 How much do we charge?
Hello and welcome to our Pricing Page
AutomateNow is a HubSpot Partner in the UK. We are digital sales & marketing experts. You can work with us to set up your CRM, improve part of your Sales & Marketing Process or outsource your Inbound Strategy.



We spent hundreds of hours setting up HubSpot for our business and Clients. By working with us, you get faster more effective results.
How do we work with our Clients?
We offer a boutique approach to serving our clients.
Our HubSpot expert you talk with on your first call is the same person who works on your CRM: data migration and segmentation builds your landing pages, manages your emailings and consults with you on a 1-1 basis.
1
First Call
We'd like to meet you and talk about your requirements
2
Your Priority
HubSpot implementation can be overwelimg. Let's focus on your priority
3
Setup
Your plan is approved. We install HubSpot & help you to choose a subscription.
4
1-1 Consultancy
You drive the project and we meet your short and long term goals with HubSpot.
Monthly Inbound Package
£90/h
Tailored HubSpot Training
Ongoing Marketing Support
The package is set to allow for a monthly commitment of our resources and hours to ensure top-service levels. It requires an annual commitment but has a lower rate of £80 per hour to benefit you.
For businesses working with the HubSpot Pro+ Licence, we suggest a minimum of 16h per month and with Starter Package 8h per month to ensure maximum success using HubSpot.
No-monthly pricing
£120/h
Ad-hoc Support, depending on your one-off enquiry
If you are looking for ad-hoc HubSpot training and integrations services at an hourly rate this can vary from £120 an hour to £250 an hour depending on the complexity of your requirements.
Our recent work
Case Studies
AutomateNow has been making an impact on businesses by helping to sell more in less time. We are proud to work with our clients and share our recent case studies.
Bart is a legend! He has always been extremely personable and ensures that everything is explained precisely and honestly. He creates rapport with ease and is someone that clearly knows his stuff.
Bart and his team at AutomateNow helped us to organise our sales better. He showed us how to use HubSpot properly. Thanks to training and ongoing engagement with AutomateNow, we have identified a number of gaps in our sales process. From now on we are more confident about how we will manage the massive growth of our business. We plan to work with Bart and his team in the future.