Brixtech had a problem.
They design software solutions for architects and other construction professionals. They are UK resellers of Bricsys 2D drafting, 3D modelling, BIM and mechanical design Software; Bluebeam software for those who design, engineer, bid and build; and Sketchup, 3D Modelling software - Developing recurring sales automation in HubSpot (software product).

Challange

They have built up a formidable database of customers and prospects over many years and so have thousands of potential customers with needs to satisfy.

However, they were victims of their own success. The thousands of contacts in the database were not segmented or categorised – prospects could be at any of several stages of multiple pipelines, so organising efficient recurring sales was complicated.

Brixtech approached us at AutomateNow to sort out the mess and improve sales.




Solution

First, we reduced the number of sales pipelines.
That done, we could see more clearly to create custom properties at each stage to trigger sales automation for the client. No more manual searching and missing of prospects!

We migrated 200+ deals to a single, new pipeline and matched appropriate properties to it.

It was then that we brought in the heavy artillery: Sequences in Hubspot allows you to send a series of targeted, timed templated emails contacts over time to nurture sales. We helped the team draft the emails, aimed at converting demo enquiries. They'll all be sent fully automatically, so the team is focussing on sales and business, not messy admin.

We also created data-cleaning workflow to identify which contacts are engaging. Finally, we introduced a product library and HubSpot Quotes to keep the whole customer experience under one roof.

Shan Chaudri, the company founder said:

"Bart and his team at AutomateNow helped us to organise our sales better. He showed us how to use HubSpot properly. Thanks to training and ongoing engagement with AutomateNow, we have identified a number of gaps in our sales process. From now on we are more confident about how we will manage the massive growth of our business. We plan to work with Bart and his team in the future."
Results

After 3 months work the sales team is more confident about the sales prospecting journey and how to use HubSpot sales tools to close deals faster. All properties in the customer journey are now captured and can easily be reused in other pipelines.

We continue to work with the client on an ongoing basis.

HubSpot Licence used: Sales, Marketing, CMS Professional
Company size: 5 employees
Location: Training delivered remotely for sales & marketing teams located in London and Pakistan
Industry: Software Consultancy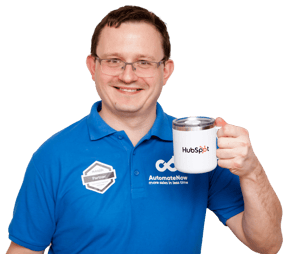 Bart Kowalczyk
I've built several businesses on H2H (not B2B but human to human) sales automation | A human approach is the only one that sells | HubSpot CRM Partner