Before David Chevalier co-founded Leadjet (which became Surfe), he had a career in the financial industry. How he ended up there is a story in itself.
Because there were no financial education classes at his school, David and his friends created a social trading game (still used by more than 20,000 people today in Germany.) One of the partner banks they worked with to run the game was so impressed with David's acumen that they recruited him.
For five years, David learned all about M&As and leverage finance through hands-on experience. To start with, it was an interesting challenge and absorbed David's attention, but after 5 years he grew bored, and crave the excitement he felt in running the social trading game.
He went to business school in Paris to study a business and software engineering course. There he met his future business partner Romain Ginestou, and they built Leadjet together.
What is Surfe?
Surfe is Sales productivity software that connects LinkedIn with your CRM.
It is designed to assist the job of Sales Development Reps and Business Development Reps (SDRs and BDRs), so you are not manually inputting fields and unnecessarily duplicating work you have already done elsewhere. It also works with enrichment software, as we will see below.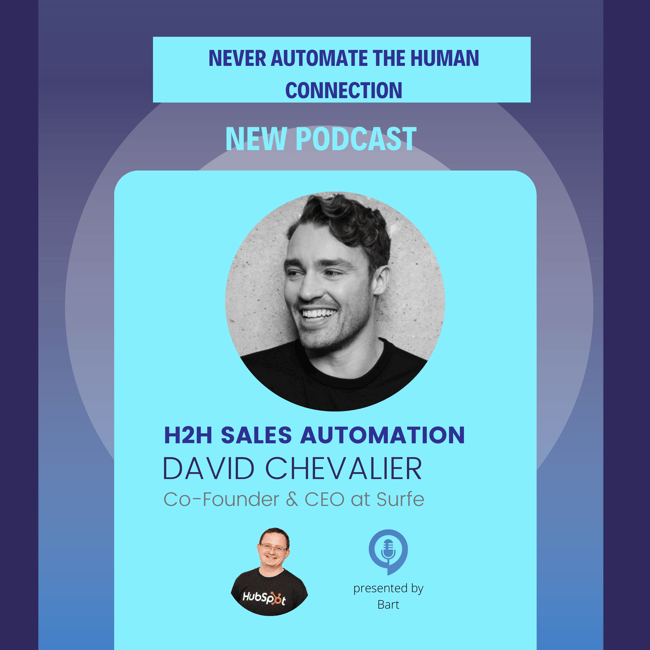 Surfe sits on top of LinkedIn, so with one click you can copy 20 fields into your CRM. But, David realizes that relations with your prospects and clients actually happen outside your CRM. It is time to copy the Surfe recipe into all the platforms you use for business communication.
So it is that currently, the team is working to integrate Surfe with email, Slack, Zoom, Teams and everywhere where you have relationship data. It is very much a productivity tool.
Productivity in a Crisis
The last couple of years have not been easy for businesses and 2023 will be no different: tight budgets, price constraints and a gloomy economic outlook are still with us.
How Surfe can help is through increasing productivity of SDRs and BDRs. Instead of spending upwards of an hour a day on sales admin, Surfe collects the data automatically.
Subscriptions start at 23€/month and can save a business 12k€ per year, per rep. The program can analyse your email performance to reveal which copy is delivering the best performance. Switch copy and which rep is sending and compare performance to arrive at the perfect formula.
Enrichment
Enrichment consists of taking your existing data, in this case, about customers and prospects, and expanding on it with additional information. You may find the additional data online, in LinkedIn or via a Google search, for example. Also, enrichment refers to cross-referencing. So, when a sales rep goes to contact a prospect, automatically, information about previous interactions with the company could pop up.
Enrichment tools automate this process. Such tools help us know more about our customers and prospects, but you can also use them to verify that the information you have is both correct and current.
Never Automate the Human Connection
Always remember that the value of data about your prospects is that it helps you personalise your connection. The more you know about someone, the more personal and relevant you can make your approach.
It's not about spamming hundreds of people with the same message.
It's a paradox – the more data you have, the more personalised your comms should be.
One tactic they use at Surfe is to find out who their prospects' customers are.
David explains:
"So, for example, we find that Coca Cola is a customer of a prospect.

Our tool is embedded in LinkedIn, so we take a screenshot from within our software of their LinkedIn page, with the data enriched. It also shows their connections who work at Coca Cola, with the connections enriched.

When we send the screenshot with our first email, the prospect can see how deep our tool can go in enriching data, and they are immediately surprised: "How do they know this contact is one of my customers?"
This part is very personalised – it is difficult to scale it up – but it is extremely powerful as a product demo. Of course, prospects soon realise that they too can have that power, with the Surfe tool.
What's Next?
Surfe is now operating in 15 countries, with 25 people.
The next step will be further engineering the solution so it operates with other platforms.
Features will be developed, such as Notes and Tasks, and it will sit in your browser, always synched to your CRM. A beta version of Pipeline is on the way. Inspired from David's time in banking, when he used Excel, it aims to minimise the pop ups and clicks needed. The experience will be similar to using Excel, but with the fields populated from your CRM system.
You can have access to your Pipeline from your browser, from everywhere you work, and build it to satisfy your needs. 1-click enrichment of all fields or user-specified fields in the Pipeline will be available.
This takes personalisation to the next level, as users will customise the tool to their own needs.
Top Tips: How to Sell Like a Human
B2B is still H2H. So:
Do your research
Individualise your message – not the same one to a hundred different people
Don't sell in the first message. It's about opening a conversation first.
Maybe you could ask for some advice instead. Are you building a new product or service? Ask for some feedback on the idea.
Consider Conferences. They can be very useful source of prospects. Look at the list of speakers and email an interesting one to ask about the topic they spoke on. Many will be pleased to talk to you.
Remember at all times that you are seeking to establish a human connection.
If you've enjoyed reading this short article and would like to learn more, subscribe to AutomateNow H2H Sales and Marketing podcast channel and we'll keep you informed!
Listen Full Episode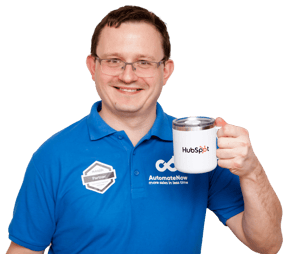 Bart Kowalczyk
I've built several businesses on H2H (not B2B but human to human) sales automation | A human approach is the only one that sells | HubSpot CRM Partner