Customer Background
Established in 2008 and based in Staffordshire, Outserve is a leading provider of financial technology services for small and medium-sized companies. Their mission is to prioritize their clients and provide them with innovative financial solutions, allowing them to focus on their core competencies. Outserve specializes in complex data migration and implementation services, enabling businesses to scale effectively.

Context
Outserve approached AutomateNow to leverage HubSpot Starter license and enhance sales and marketing processes. Although they had successfully served numerous customers, they lacked the time and expertise to establish their own inbound marketing activities. They were aware of the potential of HubSpot, but their rapid growth hindered their ability to fully utilize the platform.
Challenge

Outserve faced the challenge of limited time and knowledge to execute inbound activities effectively. They were frustrated by their inability to leverage HubSpot's features to their full potential due to the lack of internal resources caused by their rapid growth.
Philip Oakley, the owner, described the challenge, saying:


"We were utterly frustrated when we attempted to send our clients Christmas wishes but found ourselves lost in determining the appropriate recipient list. However, with the implementation of contact segmentation, a pivotal step forward, we gained a profound understanding of our inbound strategy."


Solution

AutomateNow provided Outserve with their HubSpot Remapping Service, which identified quick wins that could be implemented immediately. One of the key improvements was the segmentation of contacts, which enabled Outserve to easily send targeted emails, such as Christmas wishes, to specific client lists. Outserve decided to work with AutomateNow on a trial basis for four months and eventually upgraded to the Marketing and Sales Professional license.
Regular meetings with the AutomateNow team helped Outserve establish a content strategy and generate fresh ideas. Webinars were identified as a valuable tool for engaging the audience and building expertise. AutomateNow created event assets to run successful campaigns and re-engage the target audience. Outserve now plans to expand its reach by creating tailored content for a well-defined audience, focusing on an account-based marketing (ABM) strategy and enhancing social media engagement.


Webinar organised together with Outserve


Result

The marketing assets created for the webinar campaigns have proven to be reusable for future initiatives. These assets include an event registration workflow, feedback workflow, landing page, and marketing emails with invitations. Outserve reported an 80% increase in the number of contacts created in their CRM during the first half of 2023 compared to 2022. The engagement rate with prospects has significantly improved, with a 10% increase in click-through rates (CTR) for all marketing emails within the last 12 months. Additionally, social media engagement has seen a substantial increase of 29% in the first two quarters of 2023.
Impact
With the assistance of AutomateNow, Outserve has transitioned from having no marketing activities to implementing a robust content strategy that generates and nurtures leads. This content strategy aims to educate and nurture prospects, resulting in a higher number of qualified leads entering the sales pipeline. Moreover, the team at Outserve has experienced a renewed sense of excitement and motivation, which has driven them to execute more engaging campaigns within the HubSpot ecosystem.

By leveraging HubSpot's capabilities and partnering with AutomateNow, Outserve has successfully transformed its marketing and sales processes, paving the way for sustainable growth and long-term success.

Overview
HubSpot Licence used: Sales Professional, Marketing Professional
Company size: 11+ employees
Industry: IT Services and IT Consulting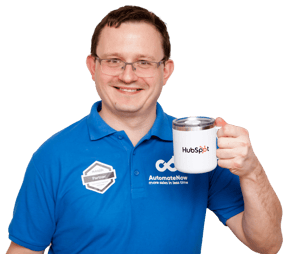 Bart Kowalczyk
I specialize in optimizing the buyer's journey, providing top-notch sales enablement training, spearheading new business development, orchestrating engaging events, and sharing insights through podcasts. My mission is to drive growth, enhance customer experiences, and empower sales teams to excel. Let's elevate your business together.